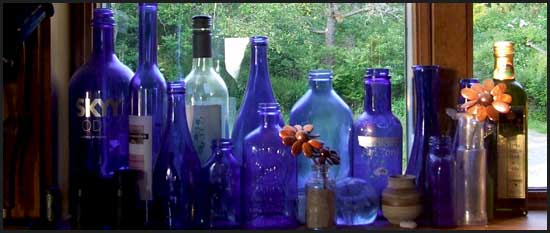 Hey, friends. I've had a busy and productive week. Sold five paintings and couldn't be happier about that. The past few days have been very slow, though, and it makes for a long day. I didn't think new business owners really worked 16 to 18 hour days but I'm finding out they really do. Here's me, tired but happy :)

Here's what sold of mine just recently ...
Here's one I did a year or two ago (my mom owns it - was her dad's house). I promised the buyer of the first one above I would post. This is just a short distance from the location of the one she bought.

I've been making lots of smalls lately like sea glass sailboats, sea glass mobiles that hang from driftwood, magnets with shards and things. Finishing a few paintings and worked with some thick oils on smaller canvases this week, also. Here's what's drying now ...
The captain is out fishing for bait with another fishermen friend up the river. They are going to use it in their lobster traps to save some money. Every little bit helps when the price of lobsters is the lowest it's been in, well, forever. Here's a video with footage of real Maine lobster fishing families hard at work.
We have some wonderful art up at the Barn Gallery and I've met some fantastic people this summer. The weather has been absolutely gorgeous and I'm sure many of those who were in Phippsburg for the first time will be visitng again. It's a sweet little town with some amazing vistas and sunsets and wondeful beaches, trails, and forts to explore. Visit if you haven't. You'll be glad you did.
Speaking of beautiful sunsets here are a few pics of the most recent ones ...
and a seagull flying peacefully on the wind ...

Lobster roll lunch with one of my best friends tomorrow at the Barn. Can't wait to see her and catch up. It's been too long since we've visited.
Hope you have a safe, sweet, wonderful week. Thanks for following the journey. More later :)