Well, the guys have all gone lobster fishing this morning. The captain's going handlining bluefin tuna after he sets a load of traps. The prices on soft shell lobsters are down to $2.00 / lb. - the lowest I've heard of since I was a child. Please watch this short video Maine Lobster Fishermen showing our local fishermen working around and on the water and do your part by eating Maine lobster.
Olivia Hoffman has been the featured artist for the week at my Barn Gallery. Her bigger than life bright oil paintings on canvas are a beautiful addition to the barn. Olivia is a very talented young lady with long ties to the Phippsburg peninsula. She is currently living on Matinicus with her new beau, a lobster fisherman (much to my delight, of course). I bet she is sure to be inspired to paint even more beautiful images from that lovely location. Here's part of Olivia's display below.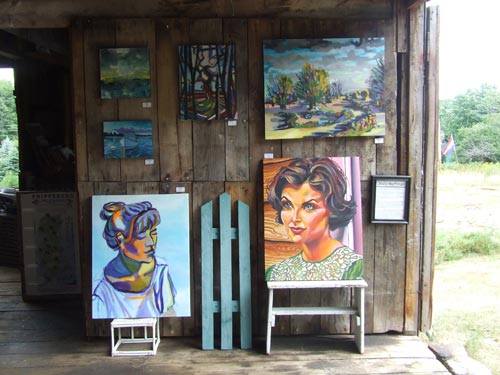 Stopped by the Bath Information Booth a few days ago to see the new Phippsburg Map with all the great local advertisements. Our ad for the gallery came out beautiful and the colors are exactly like I sent the graphic designer. So nice to see something come out exactly as you had expected. This is sure to bring us lots more business. Here's the map below.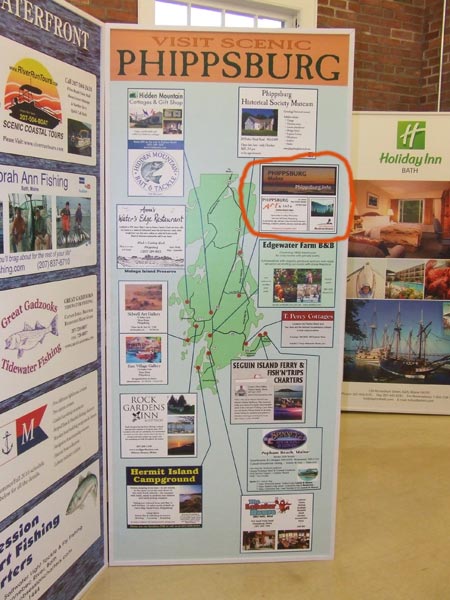 Been working on a photo restoration job for a local client. It's a lovely old pic to start with just damaged from age mostly. He's coming today to see the preliminary work I've done with it. I'm quite sure he will be very pleased. If you have an old photo you would like restored be sure to call me. I can beat any prices around (including those on the internet) so be sure to talk to me first about helping you restore those memories for future generations.
Sewing up a few quilts for the shop. My girl that usually makes quilts hasn't been able to get any to us this year and I thought it was important to have some in the shop. One is a heavier denim quilt with different shades of blue and some red patches in it. The other is a blueberry quilt. Both of these were already cut and layed out last year but I'm just finally getting around to putting them together.
Went kayaking at Totman's Cove late yesterday afternoon with a sweet friend of mine. We hardly ever get to see each other anymore as both of us are working all the time. We had a great time paddling and catching up. The captain came to the beach, too, which was a pleasant surprise :)
Well, that's it for now, folks. I'll be up at the Barn from 10-4 today. Stop by if you are on your way to Popham Beach or Hermit Island and check out all the wonderful (and affordable) art currently on display. We have 20 artists showing, many of them for the first time ever.
Have a safe, sweet, wonderful day, friends. Thanks for following the journey. More later :)