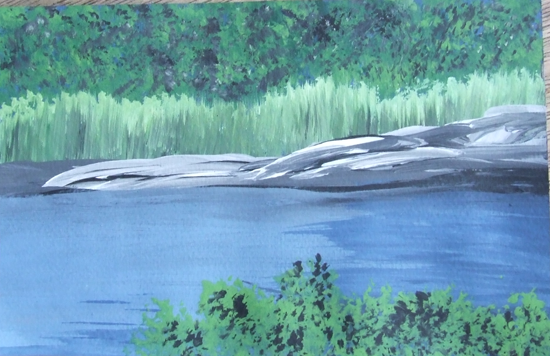 Hello friends and family. Wow, this is a busy time of year. Things are in full swing here on the Phippsburg, Maine peninsula and the tourists (and locals) are really enjoying this beautiful, warm stretch of hot summer weather we've been getting lately. The captain thinks it's hot. I think it's perfect being the sun worshipper that I am. In fact, it reminds me of Costa Rica and anything that reminds me of Costa Rica is a beautiful memory indeed :)
Our featured artist of the week is Elise Spacek. I adore her abstract oil paintings and can't decide which one I want. I am sure I want one, though. She also makes these fantastic little books that would make a wonderful keepsake for anyone. Please read more about her at Phippsburg.info.
Here are a few of Elise's things on sale now at my Phippsburg Art & Info Barn Gallery. Please click on the images for larger views.
After her featured week at my barn gallery, Elise will be joining her grandfather, famous Maine Artist, Bev Bevilaqua at his new "The Art Barn Gallery" at North Creek Farm on the way to Sebasco in Phippsburg.
I did stop long enough to get some pics of this blue heron yesterday morning. He was fishing in a pond down the road and let me get quite close to him. He never moved. Usually they are skittish in Maine and it's hard to even get a good photo.
Almost forgot, Jessie Varian Sutfin is back at the gallery! She was one of the more popular first time artists last year with her distinct black and white ink sketches of Phippsburg, Maine. I was pleasantly surprised to see this amazing and large (11x14 or so, I haven't measured it yet) watercolor she added this year. We are offering both her originals and some limited edition prints of her works for the remainder of the season. Here are a few of her fabulous works of art.
Not much time for painting lately, though I am working on a painting that I never really liked. This is its third makeover and I figure eventually it will reveal itself to me.
Sometimes my paintings don't have a clue what they want to be until I've put enough paint on them to bring out their true "colors." This one I'm reworking is already very thick and texured and has some old netting in it and sand as well.
I love the blues and greens in it but it was just too bright or something so I put some (lots) of my black oil paint straight out of the tube over the entire thing then scraped half of it back off with paper towels. The sky now looks even more amazing and much more muted. It's very messy to work with, which I love.
Well, the lobster fishery is going straight to hell here in the state of Maine. I'm not sure exactly what is going on but the prices are lower than they were 35 years ago. There have been a few days already that the wharf reps have asked the guys not to fish because they are having trouble selling them. I heard yesterday that the Canadian processor owners will just keep lowering the price by 25 cents/lb. per day until no one goes. What is going on? If the lobster fisheries come to an end it will have a severe impact on Maine. Fishing is BIG business up here!
That's it for now. Lots more friends and followers online who I wish I had time to get to know better. We'll chat more this fall when things slow down a bit. Thanks for following the journey. More later :)
P.S. If you read all this and didn't see any mention of cats it's because I forgot it was in the title. The three cats are doing splendidly. If you want to read more about them please search for the word cats at the home page of this website for blogs where I did talk about my cats!