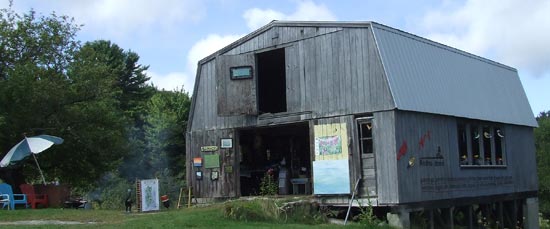 Hi there. The captain has gone to haul the traps today and it's getting warmer by the minute in Maine. I am going kayaking with my friends after work today. Can't wait! Here's what I've been working on lately. Please click on thumbnails for larger pictures.
Painted this background late last fall and several people told me to leave it alone. I never felt quite right about it and recently when I was getting something from my car I noticed these flowers in front of the canvas as it was hanging on the barn door. I loved it. I want to paint it. So I have finally found out what to put on this background. Hope it turns out as well painted as it looks in these reference photos!
Here's a nice, thick, oil, mixed media piece I am working on. At first I called it Sea and Sky and then I painted the words Hermit Island across the bottom but I was never happy with it. I think it has finally figured out what it wants to be :) Calling it Fence, Hermit Island. It's super thick and still wet. The frame is/will be from lobster trap lathes.

Sold these two Beach Art pieces to a young couple on their honeymoon. This first one is made with lobster trap lathes. The second is made from driftwood and local seashells. There's one of my little seaglass sailboats on the second one. The girl that bought these loved them so much (and the barn) that she gave me two hugs before she left!
Next are a few abstracts that I have for sale right now at the barn. The first one is called Green Sea #2 and is created with very thick coats of acrylics with some sand, driftwood, netting, and seashells. The second was just some red flowers earlier this year but I wasn't happy with that. It has now become "Periwinkle Flowers" and it is made with thick oils and little yellow periwinkles found on just a few Phippsburg beaches.
Below is a pillow my mom brought by the shop the other day. I made this (and another like it) for her when I was 12 years old. The embroidery is a little rough but not too bad for 12. She thinks I should make some more to sell. I am wondering if the hours involved in doing this would be worth the return on the investment. Thinking it over :)

In case you missed my little seaglass sailboats that are flying off the shelves at the barn, here are a few samples. I make them in various colors including some with blue seaglass. Prices range from $1 to $7 depending on how rare the glass is that I use to make them.
Had a wonderful repeat customer from Cincinatti come in and buy several things last week. She liked my painting of "Sherb's, West Point, Maine" and my Phippsburg Collage framed with local driftwood. The collage also has handmade clay ducks (added after this photo was taken) and seashells and such. The red lobster "My Red Lobster" on driftwood was purchased by the same customer last year. Was so nice to see her come in looking for more Maine things to take with her as keepsakes.
Also working on several rag dolls which I have orders for. These are adorable and so much fun to make. I will be posting some of the rag dolls as I finish them. Here's a pic of the first one just as I had first started her.

If you don't live near the barn and you want something that you have seen me post online I would be happy to ship to you. Some things are no longer available but many others are still for sale or available in print or I can make something similar (though I never make the exact same thing twice). Check out my art video and let me know if I can make something special just for you or if there is something you are interested in.
Have a safe, sweet, wonderful week and thanks for following the journey. More later :)