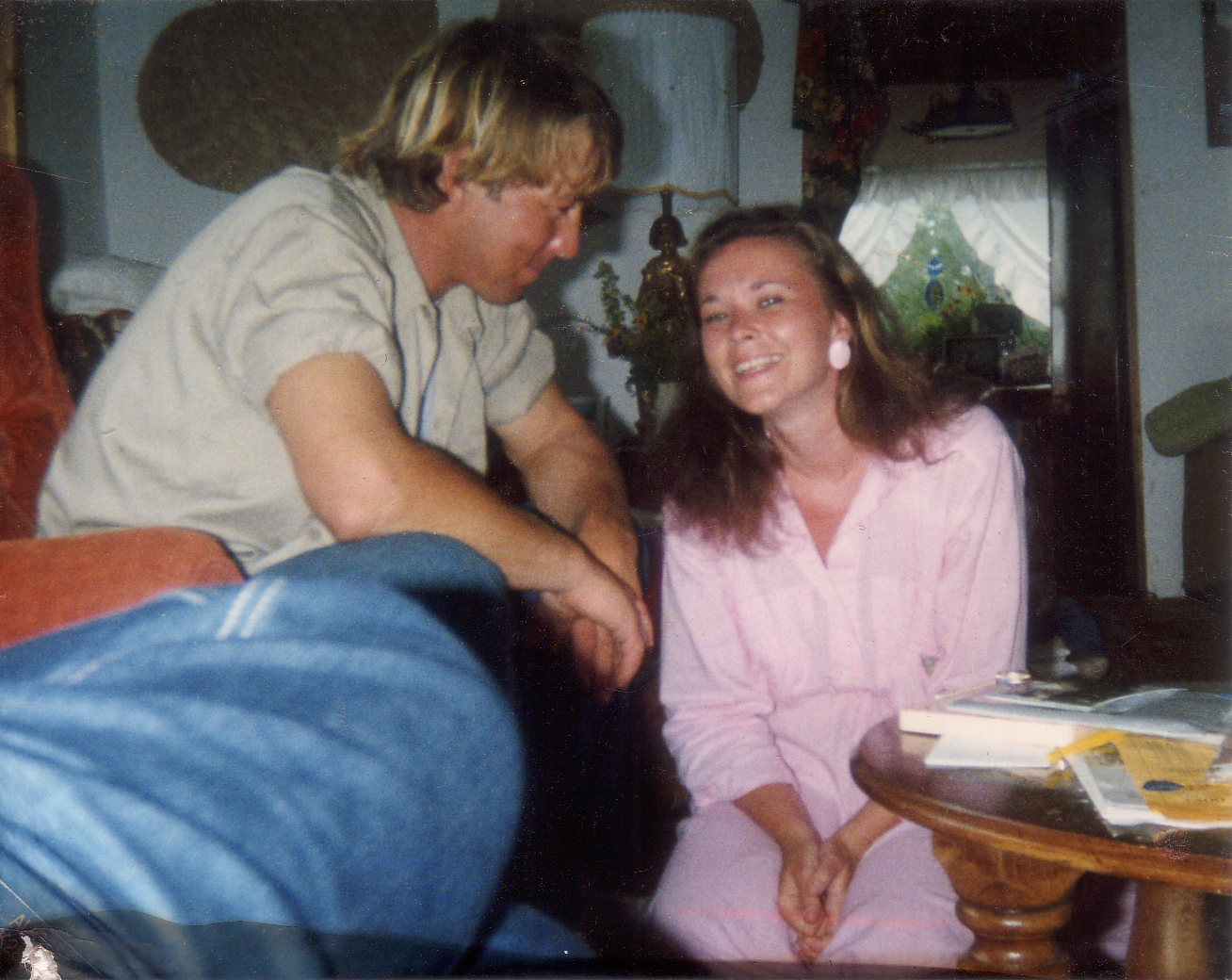 Here's my favorite photo of me and the Captain way back in 1989. Wow, how time flies when you are having fun! I like living with a lobster fishermen. My family on my grandmother's side (Alexander's) includes an unbroken line of 11 generations of lobster fishers. The Captain comes from "away" but began fishing when he was five with his dad. He still loves it to this day.
You have to get up early if you live with a lobster fisherman. Well, you don't always have to but if he is going to be out hauling all day you really should fix him a hot breakfast and pack a nice lunch or he's going to be one hungry, tired man when he gets home.
Your house is going to smell like fish at times. The only way this can be avoided is if you make him take off his oil skins and dirty clothes before he enters the house. Even then someone is going to have to eventually bring them inside and wash them. I guess a totally separate laundry house would be one option, but then there are the times you are going to be cooking crabs or lobsters in the house and then your whole house is going to smell like fish again. So ... a separate laundry house for the fishing clothes and an outdoor area to cook lobsters and crabs is the only solution I know of. Not many fishermen are wealthy enough for those options so ... your house is going to smell like fish at times.
On the plus side, you are going to have all the fresh lobster and crab your heart desires. You will have a hard working, rugged, healthy individual who enjoys fresh air, sunshine, and earning an honest living. You will have someone who appreciates sunrises and sunsets, fine weather, whales, gifts and treasures from the sea, sailing, exploring, reading, dreaming, and family. You will always have food on the table. You will always have a means of escape (the boat). You will have a way of life many only dream of.
If you don't get seasick and you can fish with him you will keep the money in the family. This is a great economic asset and a wonderful way to stay close. If you do get seasick you can be the shore captain and take care of all those pesky things like paperwork, licensing, shopping, and banking and give the guy a chance to relax when he's not working.
Life aboard a boat is tough. Unless you have actually been fishing for a living you can't begin to imagine how strenuous of a job it really is. Just standing up in a boat (especially in rough weather) is a total body workout. Add hauling, baiting, setting a few hundred traps, and untangling gear all day to it and you really have a day's work. It's a good living, but a hard living which I think a lot of people don't always appreciate.
So, I am the shore captain. I fished for many years with the aid of ginger, patches, bracelets and all kinds of other devices that never really helped with my seasickness much. Eventually I decided I would be happier ashore and the captain would likely make more money with someone who actually loved fishing, too. I do what I can at home so he can rest when he gets done. It works for us. I've been around here for almost 23 years now. I guess we are doing something right :)
That's a little about life with a Maine lobster fisherman. Thanks for following the journey. More later ...