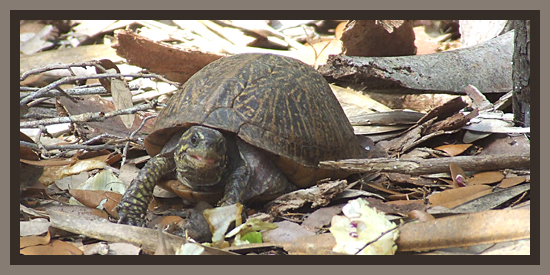 Sometimes I envy this little guy who lives on the island in Florida. No wonder tortoise live so long (this species, a Gopher Tortoise, live to about 60 years). Slow, slow, slow :) I couldn't help posting this pic as I find him (or her) adorable. My three cats are cool with him, too. I hope he is still on the island rummaging around in the leaf litter when we go back down this winter. Now back to life in Maine...
So, how have you all been doing? Summer is flying right by and it's been a beauty. Things are getting busier up at my art barn gallery and there is some amazingly beautiful art in right now.
Sharon Bond is our featured artist of the week. Sharon stopped in last year and told me she was interested in showing at the barn. She moved to Phippsburg from Georgia along with her husband and mom three years ago. They are members of the Phippsburg Congregational Church (the oldest church in town) and have blended beautifully into the community. It's a blessing to have them choose Phippsburg as their home. But, I digress. Sharon is not only a lovely person but she paints lovely art. She is becoming increasingly well known for her wonderful portrayals of our small corner of the world and her love for Maine shows in her art. Please come out and see more of her work at the barn and on her gallery website page. She will be on display for a few more weeks this season.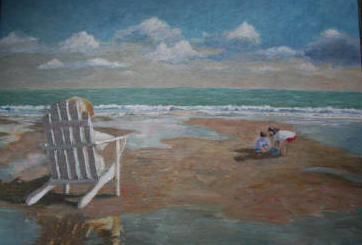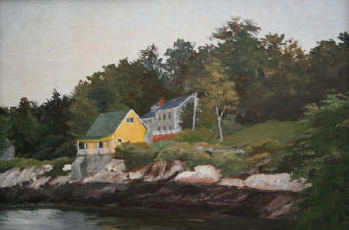 Artist, Ellie Barnet is still with us and her work is selling fast. Five of her paintings sold just recently and she has graciously brought us four more works of her fabulous art for our gallery customers. If you don't know who Ellie Barnet is you may want to find out fast. She is quite likely one of the most collectible young Maine artists with long standing ties to the art world. I am most definitely going to add her to my personal collection. Here is some of Ellie's art. Please visit her website to learn more about her and be sure to google Ellie Barnet Maine Art and see what you find out.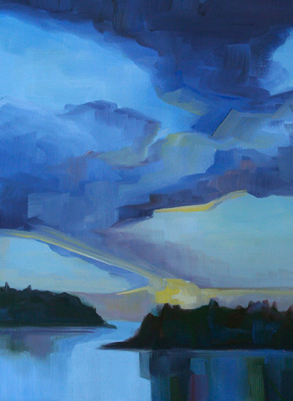 Well, it's time to run (not literally, I'm going to try to be more like the tortoise, I run enough already just getting through the day!). Opening the gallery in an hour. Come on down if you are going to Popham Beach today. There is an art show there this weekend and the weather is absolutely picture perfect. In fact, it's one of those days that makes you want to skip work and go to the beach ;) We have 20 artists in-house at the moment and some of the art is extraordinary.
Captain's gone to haul the lobster traps. Please help support Maine's commercial fishing families and buy Maine lobster. If you don't know how to prepare it send me an email and I'll fill you in. How to eat, prepare, cook, enjoy Maine Lobster will be the topic of my next blog. In the meantime, here's a two or three minute video of Maine Lobster Fishermen 2012 hard at work.
Have a safe, sweet, wonderful day, friends. Thanks for following the journey.