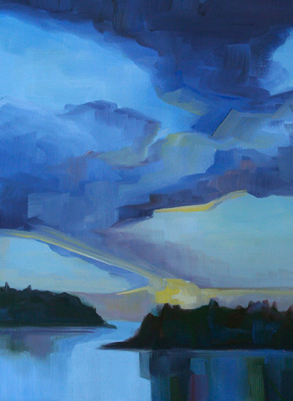 Ellie Barnet is our featured artist of the week at the Phippsburg Art & Info Barn Gallery. I love Ellie's oil paintings of Phippsburg, Maine. The way she captures the beauty of the oceans, marshes, coves, and sunsets of the peninsula are wonderfully unique and original. Her art is exceptional.
Update: Ellie is now also showing at the Aucocisco Gallery in Portland, Maine and was featured in the July 8, 2012 Portland Press Herland Article, The Kid and the Icon.
Ellie has a rare talent, which comes not only from her formal training in arts, but also from her heritage. Her grandfather is the world famous artist, Will Barnet. Mr. Barnet recently received the National Medal of Arts Award from President Obama.
Ellie's mother, Ona Barnet is the owner of Rock Garden's Inn at Sebasco in Phippsburg. Rock Garden's is a well known and loved resort where wonderfully talented artists have been summering for over a century and holding worskshops for other artists. Ellie has grown up in an environment of art.
I am very pleased Ellie will be showing her art at the gallery for the remainder of the 2012 season.
To see more of Ellie Barnet's art, visit her website at EllieBarnet.com.
Next week's featured artist will be Elise Spacek. Elise is a very talented illustrator artist the granddaughter of one of Maine's most popular artists, Bev Bevilaqua!