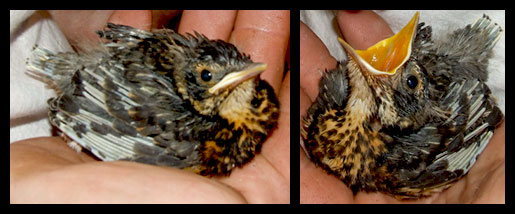 Here is the latest addition to the household. The captain caught Puffy, our cat, with this baby robin three days ago and he rescued it before any damage was done. The feathers are just coming in and it loves sitting in our hand and eating worms. What a beautiful sound to hear it chirp for breakfast in the morning. Now we are hoping we can teach Puffy and her kitten, Blackie to be friends with the birds and not try to eat them.
Tonight I'm preparing photos of my artwork for Deb Bridges at the West Quoddy Visitor Center Art Gallery in Lubec, Maine - www.westquoddy.com where I sold some of my original paintings last year. This year I'll be selling a few originals and offering prints of my art as well. She'll look over what I have and selected those she thinks will be a good fit for the gallery. Thank you, Deb!
I have four or five paintings still to finish and am working on the barn every chance I get in preparation for my first ever art show there this August. Talked to my contractor the other day about replacing some windows and I have a friend who is going to then relocate the bats who have taken up residence there. Already got bat houses from www.bestnest.com and we have a lovely pond on the property I think they would be happy to be near. I don't want them to leave, I just want them to relocate :)
Malaga Island looked lovely with the hazy sunset tonight. Went out and took a few pictures for reference for future paintings. I don't think I'll ever tire of painting Malago (that's what the locals call it).
Also, have a series of four photos a friend of mine shot in NYC recently that she released the rights to for me to paint. I'm also planning a series of paintings of Brooklyn to show next year at my June and July show at the Stadler Gallery in Kingfield, Maine www.stadlergallery.com.
Well, back to editing photos. Hope you all have a wonderful evening. More later.